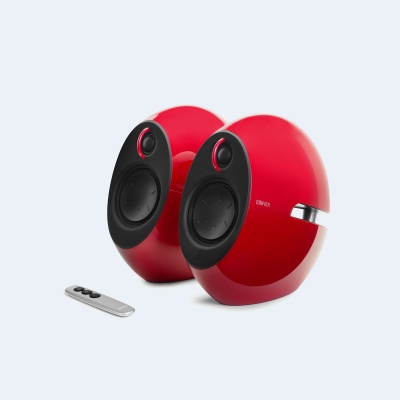 Luna
Support
Exotic design. Extraodinary sound. Effortlessly stunning.
Frequently Asked Questions
Just shy of ten feet -- around 9' 10".
Yes, you can switch the input to the jack. On the side of the main speaker there are three pads for volume and power. Put three fingers on the pads. You will hear a beep and the input will now come from the audio jack.
122 x 212 x 222mm for each
Yes, these have all these accessories you need. Remote control, power supply, link cable (connects both speakers together) and 1/8th (3.5mm) male to male cable to hook into the computer or smart phone.
Yes, but your TV would have to have either bluetooth or headphone jack or RCA jacks (you would need an adapter to convert it to a 1/8 inch headphone jack on the speakers input). We use them with a TV that has a headphone jack and it works fine that way.
There is no dongle. You will need your own.
No, shelf mounted or desk mounted only.
They are not completely wireless, as they still need to be connected to AC power and between each other. The source of the music (i.e. phone, ipod, tablet or laptop) can be sent via bluetooth. They can't run on batteries.
No, the Luna HD do offer optical input, however.
In order to protect the speakers (and your ears) from a loud volume surge, they utilize a volume remember setting that powers on at anywhere from 20 to 60% lower volume, depending on how loud they were when they were last switched off.
Remotes are available for purchase on Edifier's official website. Visit the Edifier site that is specific to your region and then click the "Shop" at the top right. On the next page, click on "Accessories" located in the left sidebar. The accessories page should have a listing for the remote.
Our 2.0 speakers are not intended for use with a sub, and they do not have a sub out. There is, however, a workaround that can help depending on what sub you have. If your sub has an adjustable crossover and RCA inputs, you can use an RCA splitter for each of the inputs and then connect the other splitter cables to the sub inputs. This will only work with Aux-in and not with Bluetooth, or S/PDIF.
First, check if your device requires a driver update. If not, then this is often an issue with the operating system rather than the products themselves. We suggest contacting Windows support for help. The phone number for their US support line is 1 (800) 642 7676. You can also visit their help page, and click on "Contact Support" under the "Get Help" app button: https://support.microsoft.com/en-us/contactus/ For a full international list of Microsoft support numbers, please visit this page: https://support.microsoft.com/en-us/help/4051701/global-customer-service-phone-numbers
The S1000DB is one of the top of the line bookshelf 2.0 models from Edifier. It will have a better sound than other non S series or Airpulse models.
Still have questions?
Send us a support ticket. We will get back to you as soon as possible
Monday to Friday
9:30 AM to 6:00 PM EST
6:30 AM to 3:00 PM PST
1 (604) 330-1887
Service en Français disponible (service in French is available)