Amp up your audio
R980T 2.0 Active Speaker System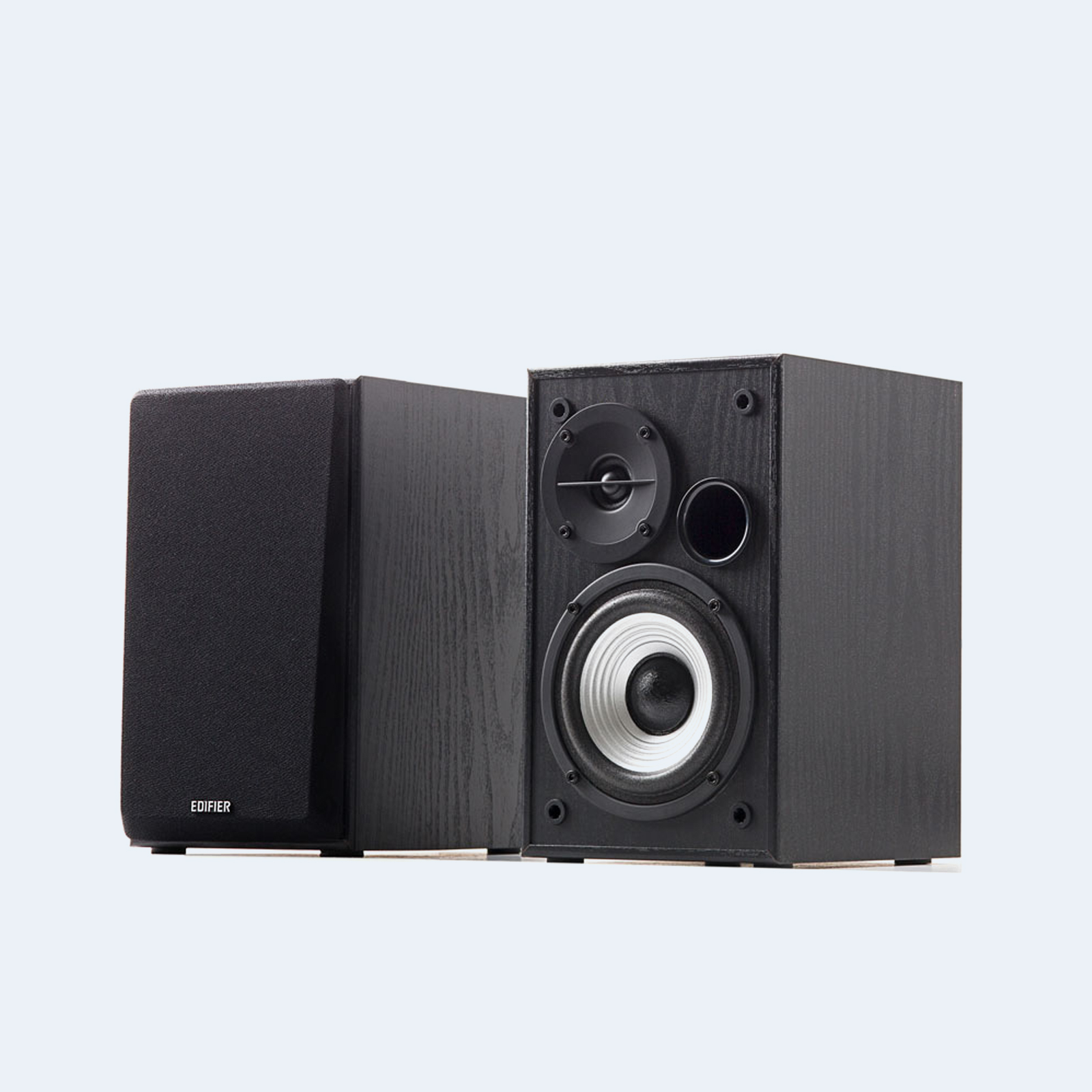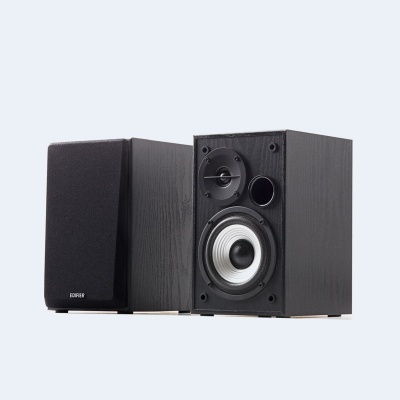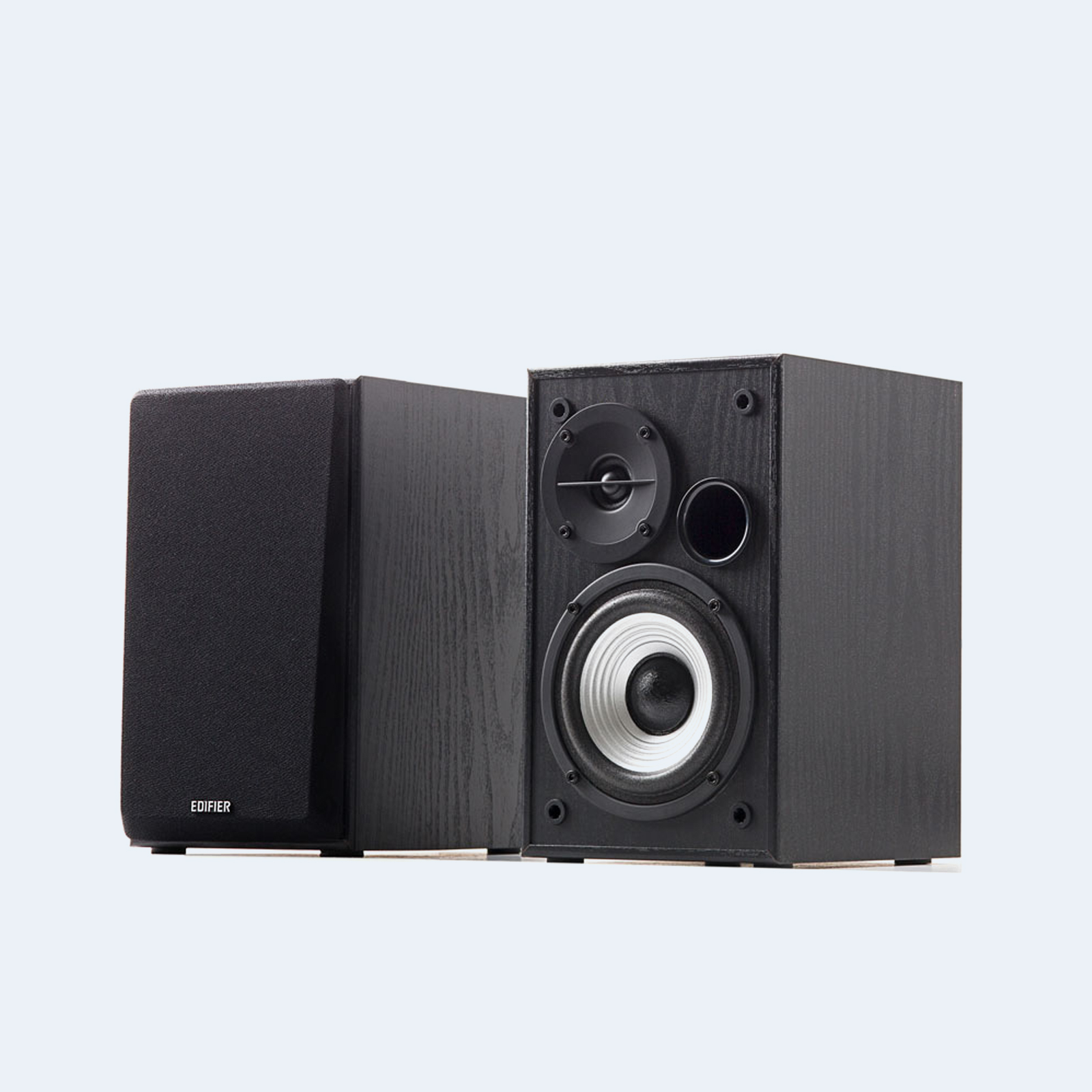 R980T
Studio-quality 2.0 speaker system with dual RCA input.
Suitable for desktops, laptops, TV, record players and much more
No need for amplifier or receiver just plug into source and play
Flared bass reflex port enhances overall bass sound
2

Year Warranty
Free Shipping to 48 States
30

Day Return Policy
The Edifier R980T 4″ Active Bookshelf Speakers – 2.0 Computer Speaker is one of the most powerful in terms of power output among all of the speakers made especially for computers. This could be attributed to the fact that the RMS rating is set at 24 watts.
If you are looking for a decent upgrade of the sound of your laptop, PC or iPod, or a simple way to amplify the sound of your smartphone, then the Edifier R980T 4" Active Bookshelf Speakers are the way to go. Coming at a reasonable price and offering quality sound, this active bookshelf sized speaker system will really improve the way you enjoy listening to your favorite tunes while sitting on your desk.
The R980T is a active 2.0 stereo speaker set with a total output of 24WRMS (12WRMS each) that features a frequency response of 70Hz-20KHz with a signal to noise ratio of 85dB and a distortion of roughly 0.5%. Each speaker is made out of MDF (medium density fiberboard) wood and contains a 13mm silk domed tweeter (4 Ohm sensitivity), 106mm subwoofer/bass driver (6 Ohm sensitivity) and a calibrated flared bass reflex port. In terms of connectivity the R980T features two RCA input options (4 ports in total) so it can be connected with two devices simultenously.
Perfect Well-Rounded Speakers for All Needs
Compact in size, the R980T is an efficient bookshelf solution for desktops and small spaces. Producing a total 24 watts of sound (12W RMS each), the R980T are the perfect well-rounded stereo speaker. Each speaker contains a 4-inch bass driver and 13mm tweeter that clearly replicates enjoyable sound for listeners. The powered amplified bookshelf speakers conveniently connect to any device that has a 3.5mm headphone output or dual RCA output. Connect to two devices via AUX at the same time, no plugging and switching needed. Any audiophile's desire to have a proper studio setup will be fulfilled with the R980T powered bookshelf speakers. The sound produced from Edifier's R980T satisfies any detail oriented reviewer; its hailed for being vibrant and alive filling the room with rich sensations. These amplified bookshelf speakers exemplify the idea of big things coming in small packages.
Enhanced Bass and Wooden Accent
The R980T powered amplified bookshelf speakers offer a sound that is full of presence and depth. Designed for enhanced bass, the R980T bookshelf speaker system is calibrated with a flared bass reflex port. Resulting in rich detailed sound that will take your breath away. This flared bass reflex port is encased in a 100% medium-density fiberboard wooden enclosure. The wooden accent encompassing the full package of the R980T bookshelf speakers compliment both a home, studio and office setting. The classic wood finish enclosures are brilliantly designed to minimize acoustic resonance while simultaneously producing a clean finish any audiophile will enjoy.
Specifications
INPUT TYPE
Dual RCA input (RCA - RCA and RCA to AUX)
INPUT SENSITIVITY
PC: 700±50mV AUX: 550±50mV (THD + N=1%)
TWEETER UNIT
Φ13mm silk domed tweeter, 4Ω
DIMENSION
140(W) × 226(H)× 197(D)mm