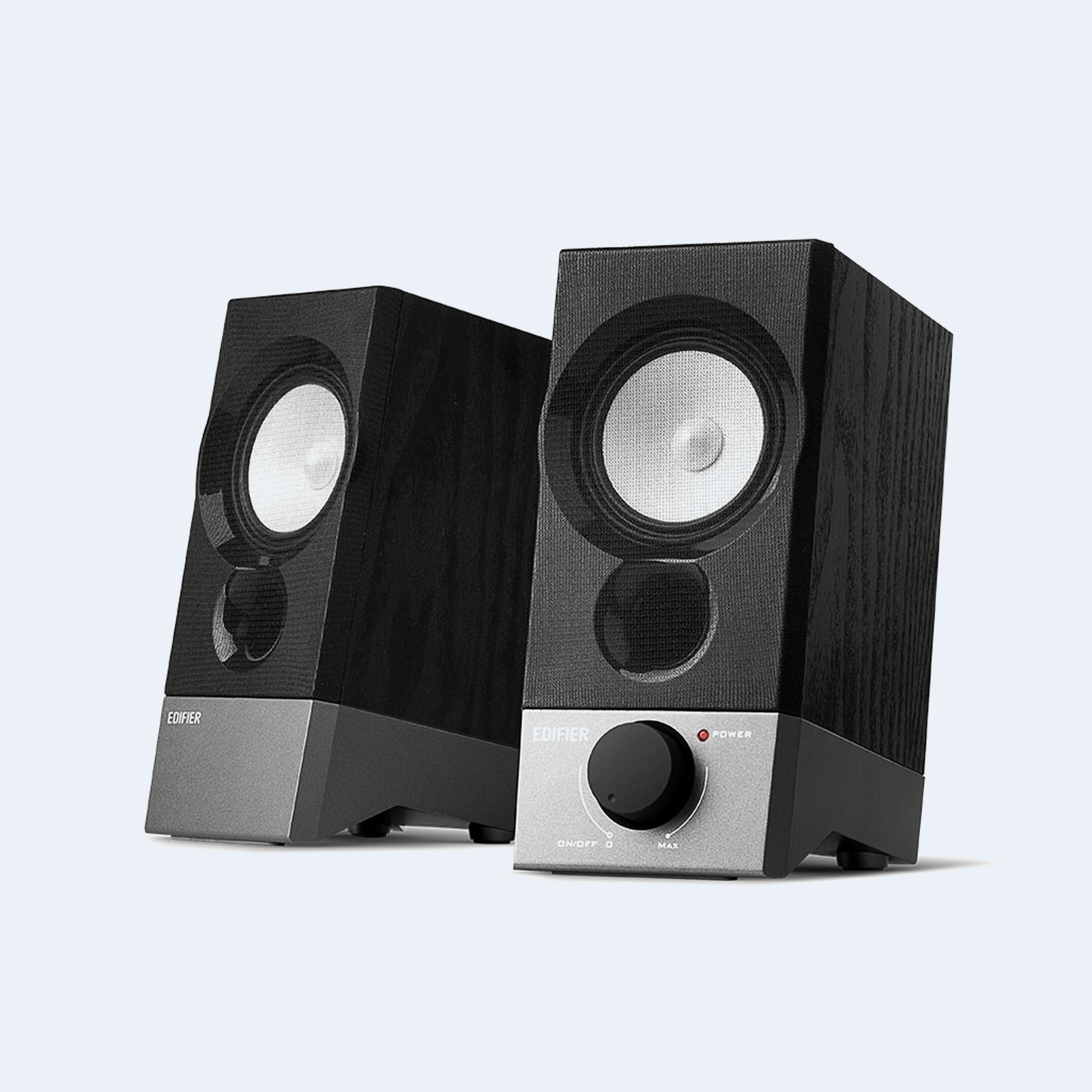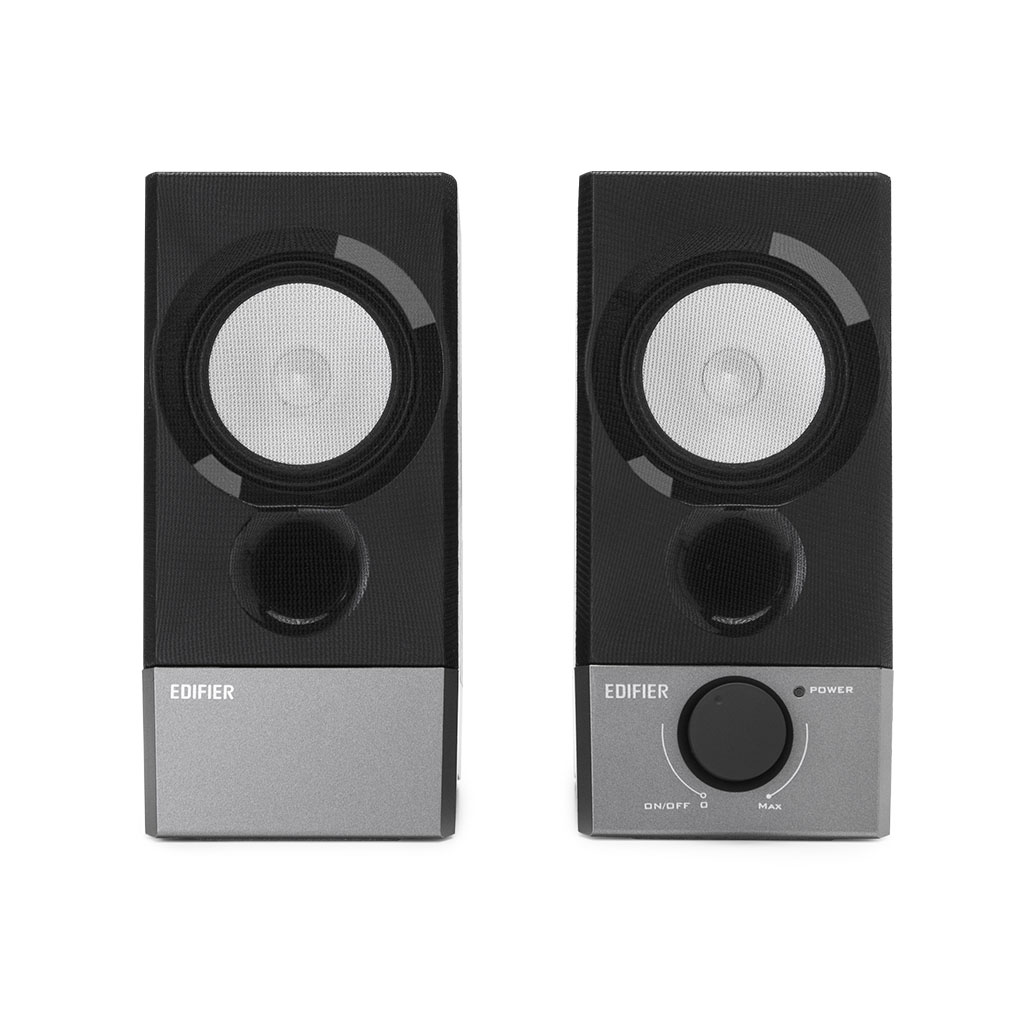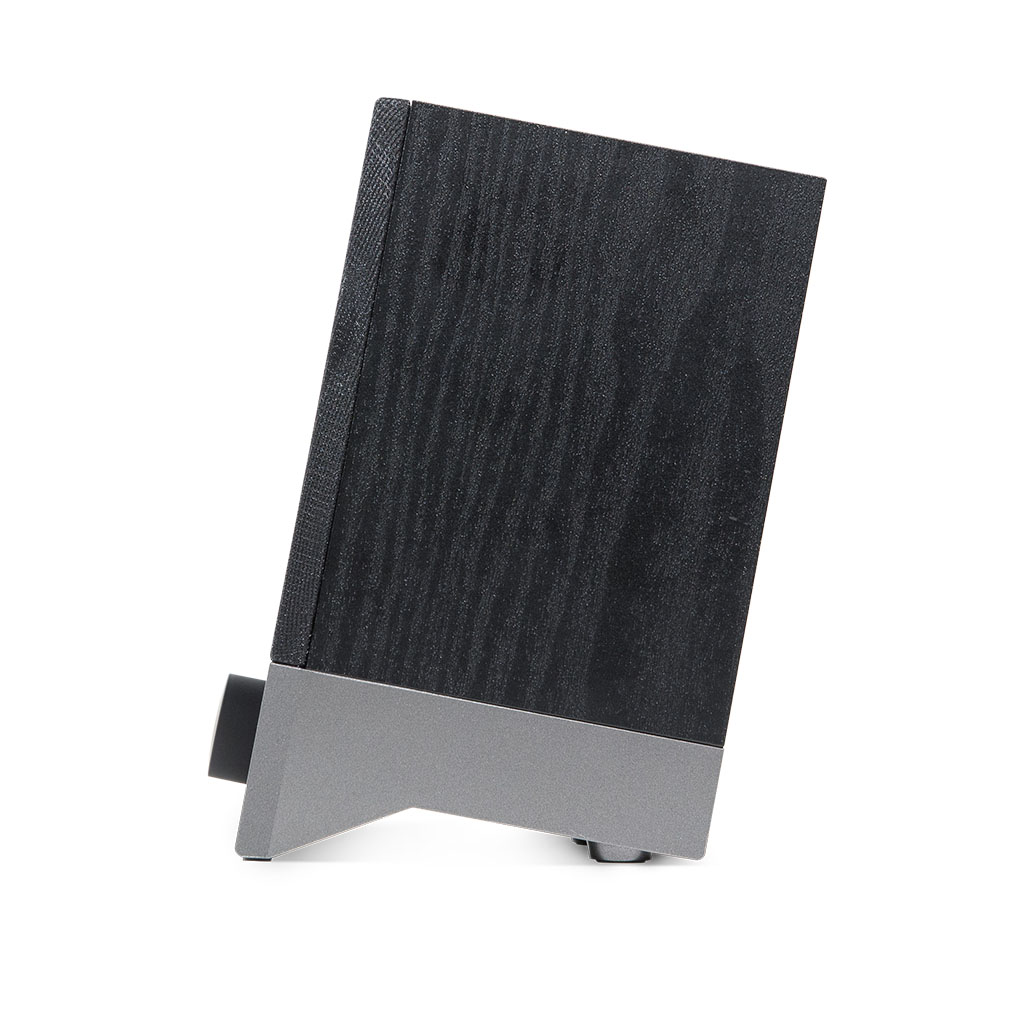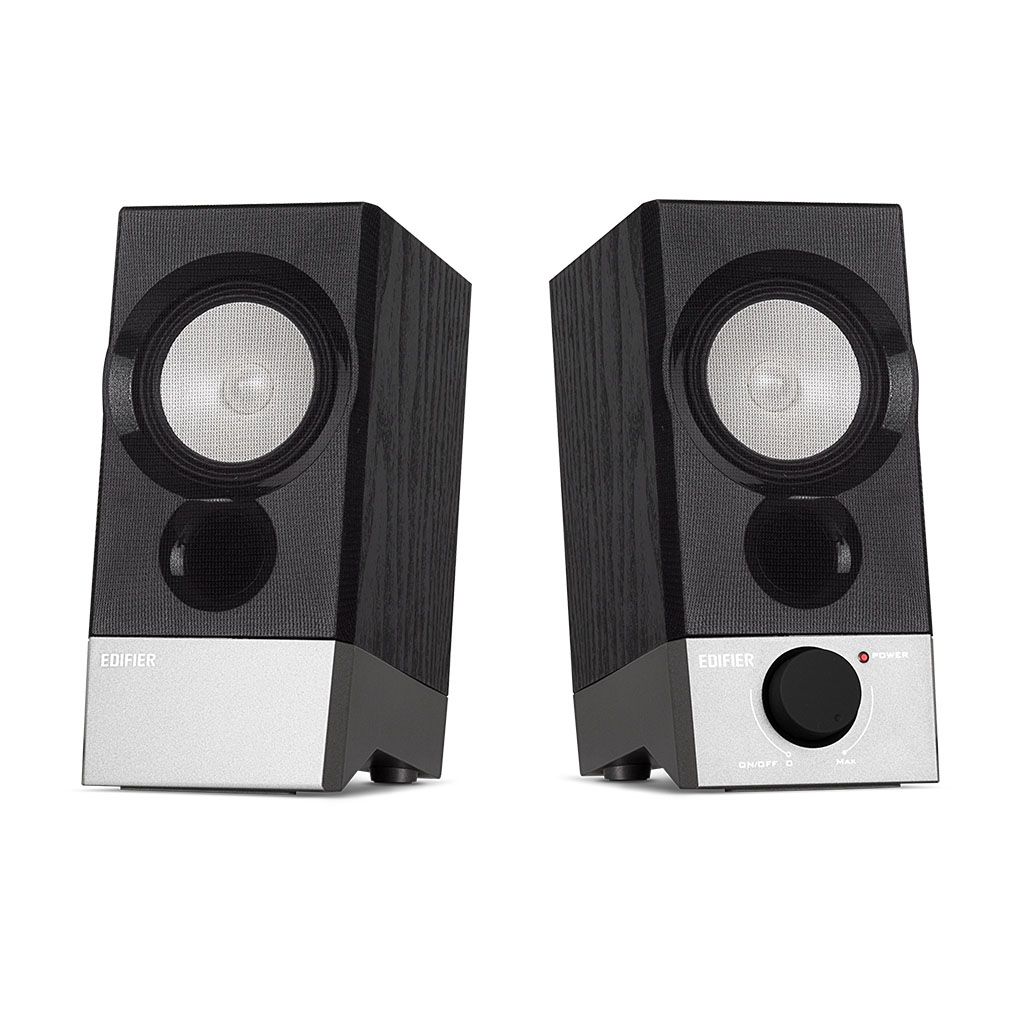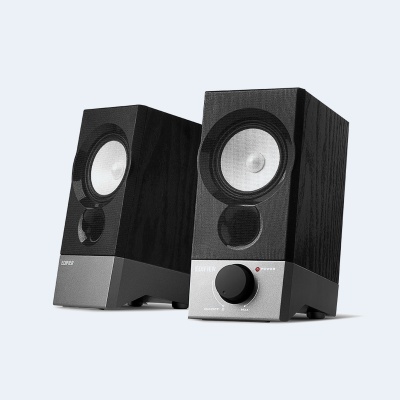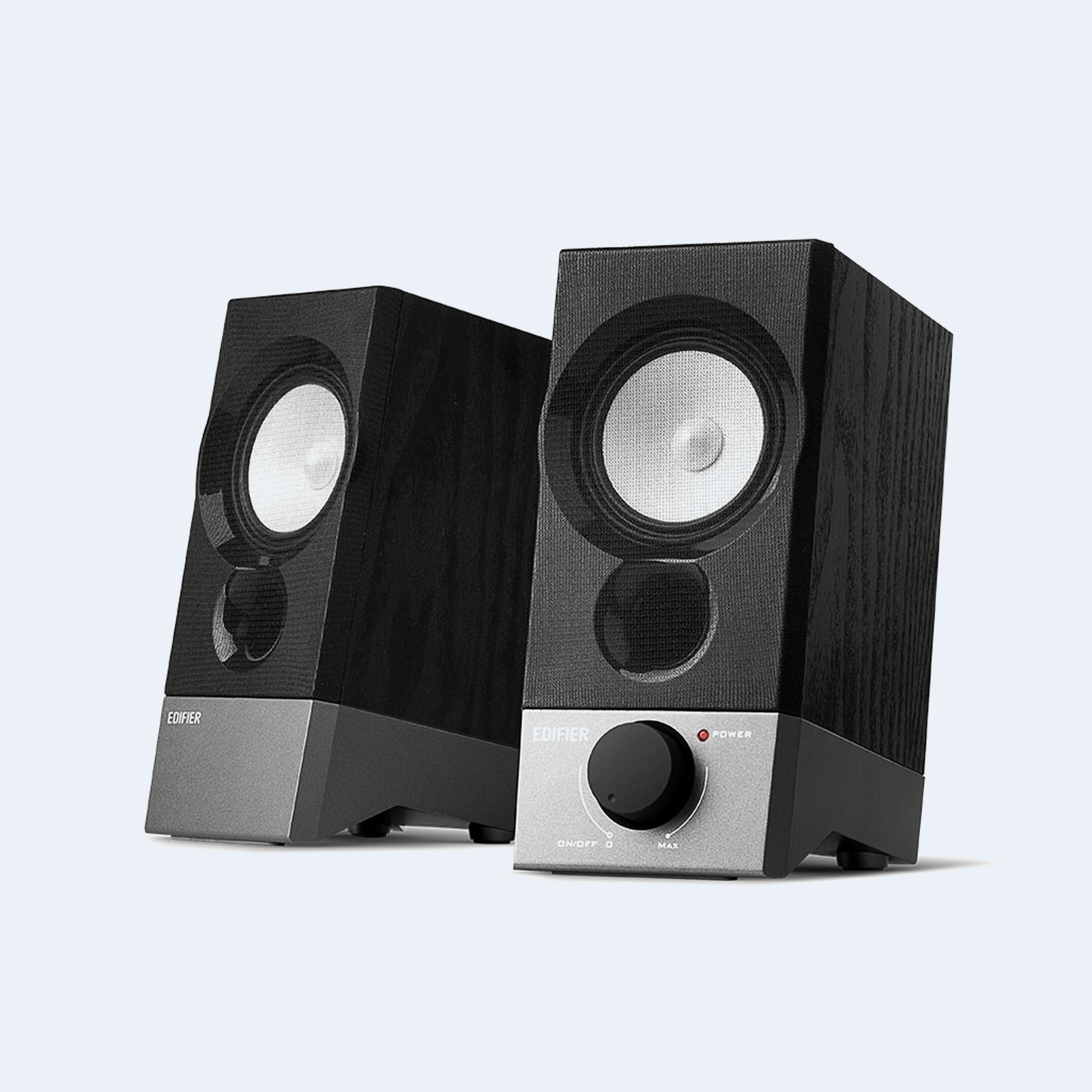 R19U
Extraordinary sound powered by USB
USB direct power 2.0 speaker system
Angled design reduces interference
Large knob controls volume and power
2

Year Warranty
Free Shipping to 48 States
30

Day Return Policy
The R19U will bring a little style to your desktop. It delivers excellent, balanced sound, with rich mids and crisp highs. Even without a subwoofer, they have a good controlled bass response. It won't rattle your windows, but it has a satisfying punch.
The left speaker also contains a second permanently attached lead which is then used to link the two speakers together plus there is a 3.5 mm jack socket that can be used for any AUX type input from a mobile device (remember this speaker system does not support any Bluetooth connectivity) such as a tablet, smartphone or MP3 player. All the various connection options are tucked away out-of-sight at the rear of the speaker units.
For the price, fantastic! I'm using it mainly for Youtube videos, games, etc, not for music. Voices are crisp and very clear (with equalizer set to "Voice"). Music sounds nice (not distorted), better than most in this price range. In the speaker properties you can use a Sound Equalizer (at least, with my onboard sound), which is useful.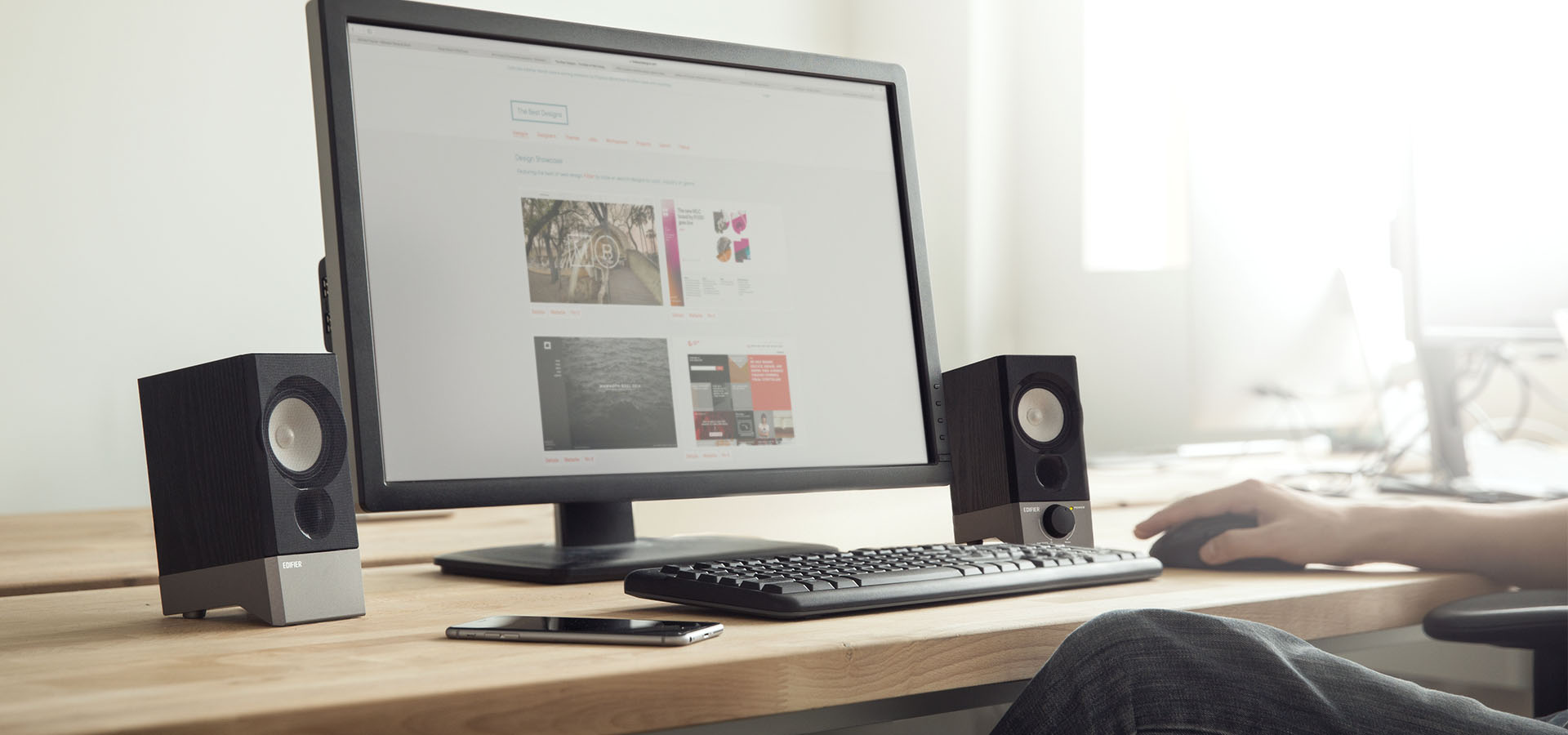 Quality audio out of a small package
The R19U compact powered USB speakers are equipped with Edifier's latest 2.75 full-range speaker unit, engineered to deliver wide and detailed sound with just two speakers. Completed with the pearl-white, bullet-shaped design, this 2.0 desktop speaker system offers both style and sound quality at an amazing value. The R19U USB speakers has a balanced and very clear sound with no distortion or interruption to quality. Being powered by a USB is a plus and a convenience not afforded too many; Edifier takes care of the Hi-tech needs and concerns of its audiophile audience. Reviewers are ultimately impressed as the R19U exceeds expectations coming from a small package.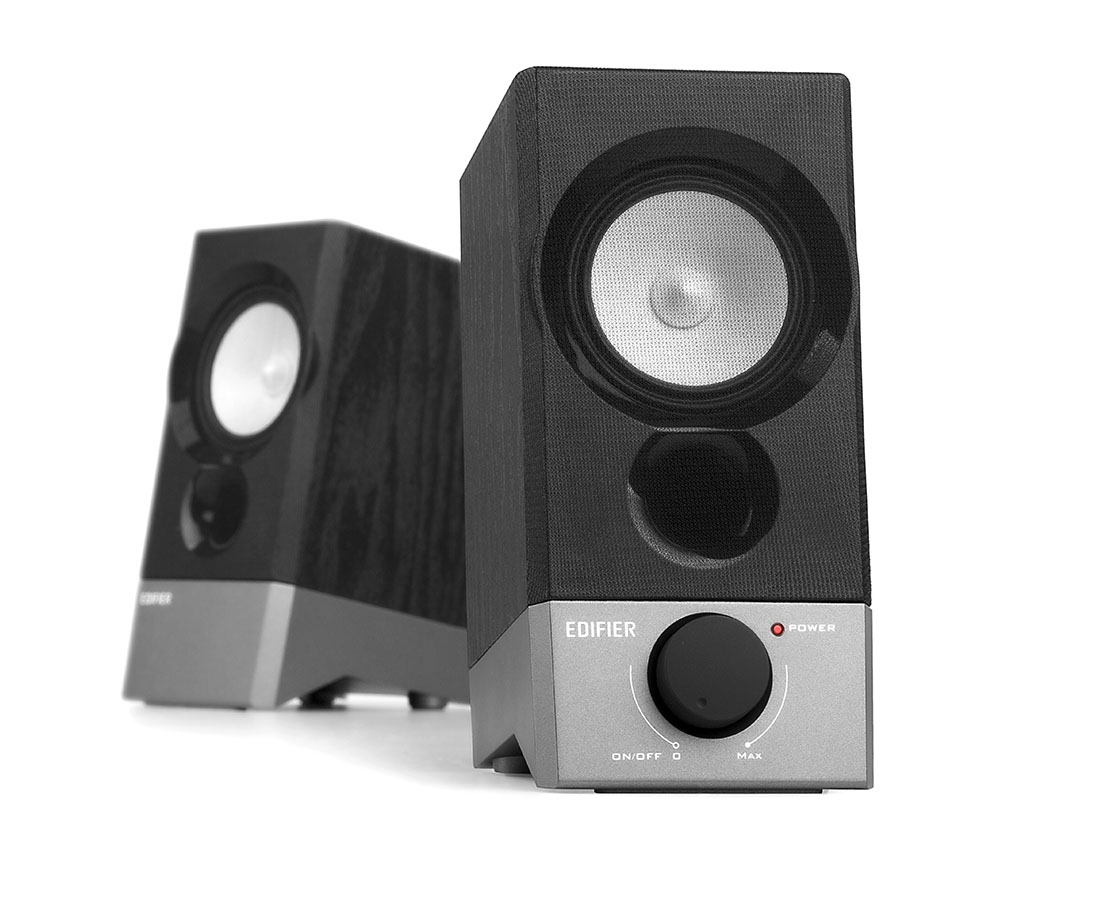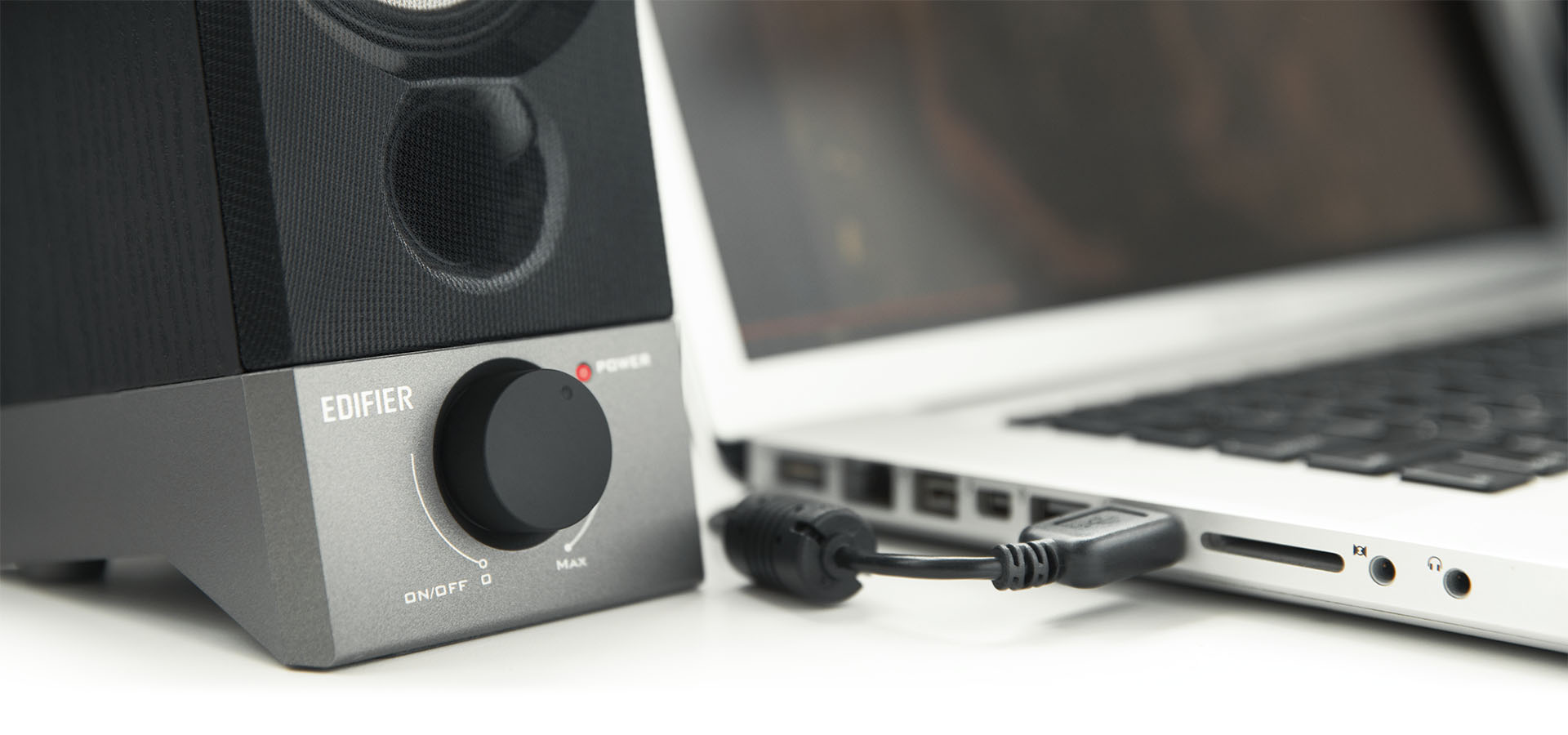 USB connection does it all
Setting up the R19U powered USB speakers is easy. It can be connected to your laptop or desktop computer with a single USB cable for both power and sound. Fewer cables mean less clutter for your workspace, and it frees up your audio port. Simple setup that takes seconds to assemble allow for high performance with clearer sound. The R19U is where simplicity meets flawless sound. The powered USB speakers support multiple platforms such as Windows 10 and Mac OSX 10.12 Sierra.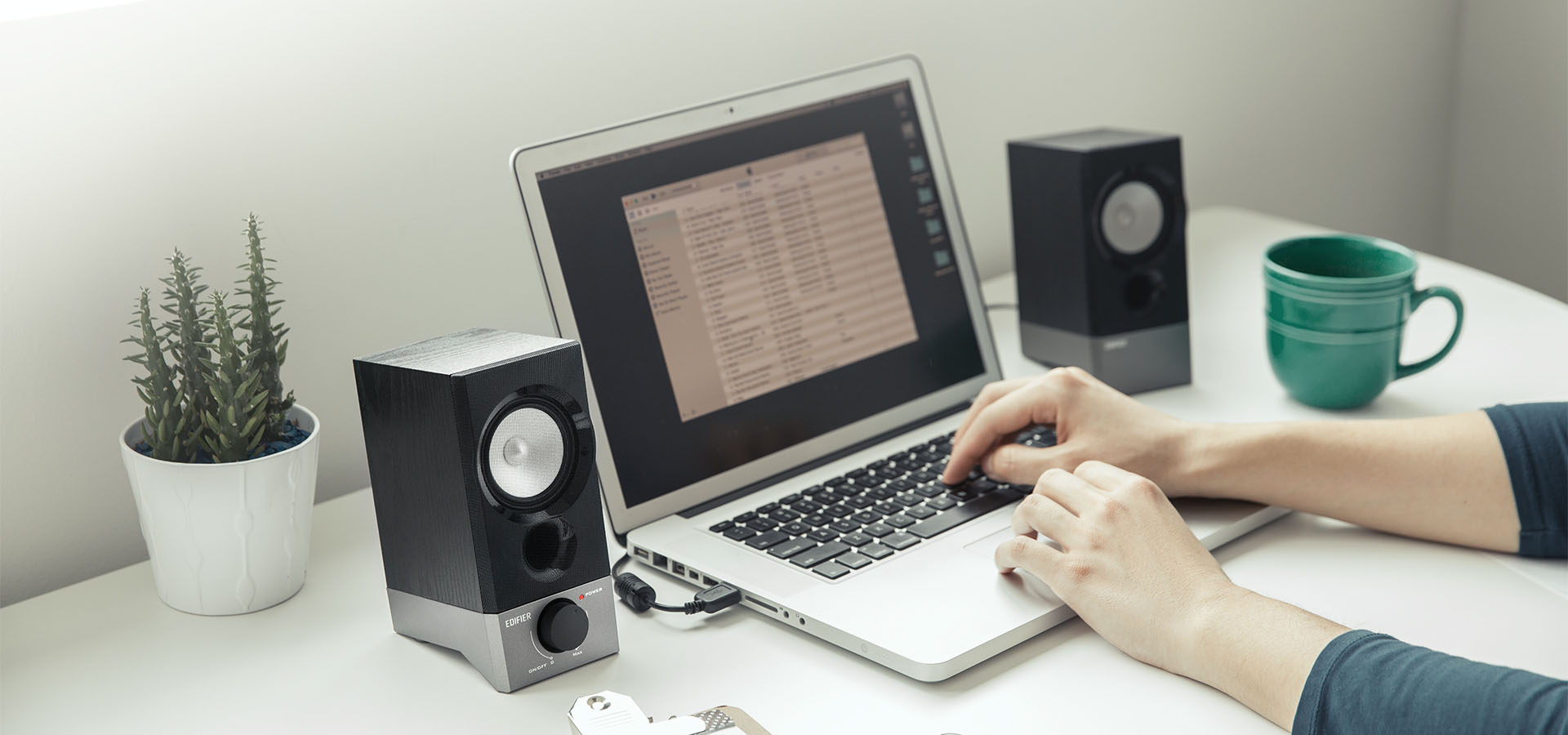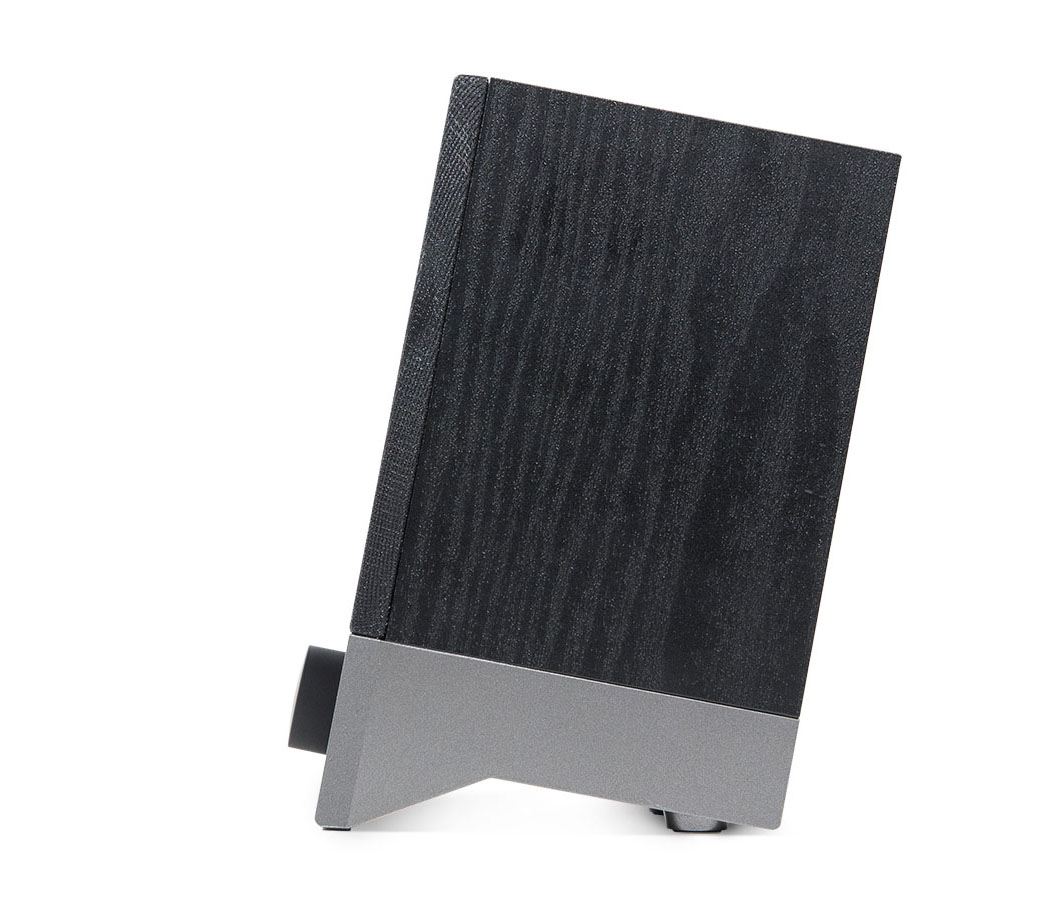 Designed with you in mind
R19U is skillfully designed with a subtle 10° tilt, which not only greatly reduces interference caused by sound reflecting from the desktop, but also projects the sound directly at you. The result is a more clear, lifelike sound for your everyday audio needs. The R19U provides control at your fingertips, power on/off with the integrated front control. Edifier cares about the holistic experience of its audiophile users. The R19U compact powered USB speakers exemplify this reality with its modern functionality and visual intricacies.
Style meets great sound
R19U 2.0 USB speaker system is here to transform the bad reputation small multimedia speakers have received. Edifier has created a transformative listening experience as well as a stylish addition to any desktop set up. Featuring a ported design for louder bass, both speakers are uniquely designed with black wooden closure and elegant grey base; a classic visual appeal complimenting any desktop layout.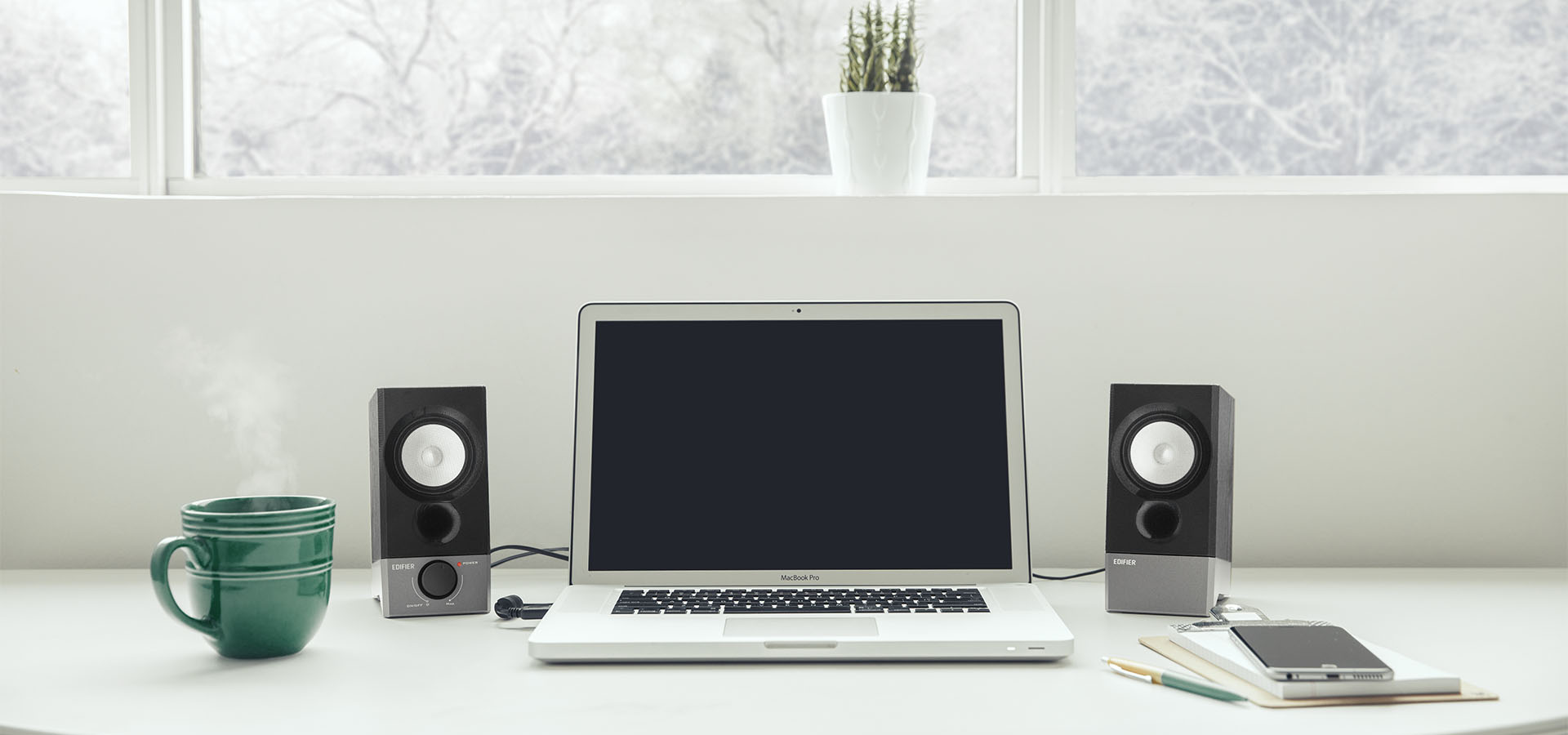 Effortless control
Setting up the R19U powered USB speakers is simple. You can effortlessly control R19U with a stylish integrated knob in the front. The large, matte-finish knob deftly controls both volume adjustments and power. The R19U compact powered speakers connects to your laptop or desktop computer with a single USB cable for both power and sound. Fewer cables mean less clutter for your workspace, and it frees up your audio port. Less fuss, more fun.
AUX connection
Not only can you connect a computer to the high-quality speakers, but the complimentary 3.5 mm AUX cable allows versatility in connecting smartphones, tablets, and game systems for a detailed sound performance.
Specifications
INPUT SENSITIVITY
AUX: 500mV ± 50mV | USB: 650mFS ± 50mFS